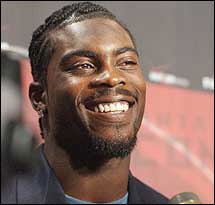 Vick gets 10-year, $130 million contract
By MATT WINKELJOHN
The Atlanta Journal-Constitution
Published on: 12/23/04
By today, many Falcons fans will have heard the one where Arthur Blank says he wanted to pony up big-time so Michael Vick could handle his holiday shopping.
Obviously, it was a joke, although nobody's laughing about the early Christmas gift Vick got at about 3:27 p.m. Thursday, when the Falcons quarterback signed a contract that guaranteed an NFL-record $37 million or so as part of a deal that could last as long as 10 years and be worth as much as $130 million.
Seriously, though, didn't you wonder . . . why now?
Actually, it was another calendar date -- New Year's Eve -- that prompted president/general manager Rich McKay to get busy with Vick's agent, Joel Segal.
Once Vick achieved certain performance-based incentives in his contract, it triggered a clause stating he could void the final two years of his pact (2005 and '06) unless the Falcons opted to "buy back" those years with a lump-sum payment of about $5 million that would trigger more than $17 million in additional salary and bonuses for Vick in the next two seasons.
And language in that contract stipulated that the Falcons had until the final Friday of the regular season, Dec. 31, to make the decision.
They opted instead to keep Vick, 24, around for much longer, and in the process created about $2 million in salary cap space for '05 and roughly $1 million for '06 vs. the cap charges Vick would have carried in the event of a buyback.
"We knew we had a date of next Friday we were working against," McKay said. "That was the only time barrier that was there."
Negotiations to extend Vick's contract began very informally last summer, and there was never a chance the two sides would wait until after the season to get it done.
"I'll share with you a comment I made to Michael and to his agent over the summer," said Blank, the Falcons owner. "I said, 'Michael, you understand that the only way you'll leave Atlanta will be in a box.' And I said, 'Coming from New York, you understand what I'm talking about.' "
There was, however, serious consideration given to opting for the short-term option, which would carry a smaller long-term financial risk in terms of potential salary cap damage if Vick were to suffer a catastrophic injury.
This contract will be insured so Blank could recoup some of his investment in such an event, but there would be no recourse in terms of the cap. Vick will count a minimum of $37 million against future caps even if he never plays another down.
"It became apparent to us that we needed to begin to try to solidify the core of our team, I would say in September or October," McKay said. "The injury factor is one that's talked about a lot, as well it should be, because of the nature of the position and the way Michael plays.
"But we're comfortable with the fact he's going to have a long career. He's going to evolve as a player. His passing yards will continue to go up, his rushing yards will continue to go down."
The idea of securing Vick, whose record as a starter is 24-12-1 counting playoff games, coincided with a push to extend the contract of tight end Alge Crumpler, who like Vick, linebacker Keith Brooking and defensive end Patrick Kerney, was named to the Pro Bowl on Wednesday.
All four players are now under contract for at least three more seasons.
In fact, securing Vick, a two-time Pro Bowl player who was the No. 1 overall pick of the 2001 draft, and getting his cap numbers under control for the next few years (before league insiders believe the league's cap allowance may jump precipitously) gives team officials some wiggle room in free agency next spring.
"I think [the timing] was more of, 'Should we do this deal for purposes of being able to try to improve the team?' " McKay said. "We don't want to get ourselves in a position all of sudden we have to have to let guys go [for cap reasons if Vick had been locked up later, at a higher price]. The longer you go, the less . . . control you have over what the contract will look like."
McKay and Segal spent considerable time deciding how the guaranteed money will be paid, chiefly a signing bonus and roster bonuses designed to ensure that Vick, a Virginia native, will spend more of his offseason in Atlanta than in past years.
"I feel very fortunate because there are a lot of guys who come in this league and never have an opportunity to find a home," Vick said, "and I can honestly say that Atlanta will be my home for the next 10 years."
TOP DOLLAR
Based on the $37 million in guaranteed money, Michael Vick's contract makes him the highest-paid NFL player. Here's a look at some of the other contracts given to NFL quarterbacks recently.
Player Guaranteed Total Years Avg.
Michael Vick (Signed Dec. 2004) $37 $130 10 $13
Peyton Manning (March 2004) $34.5 $99.2 7 $14.17
Donovan McNabb (Sept. 2002) $20.5 $115 12 $9.58
Brett Favre (March 2001) $10 $100 10 $10
All dollar amounts in millions.