IT'S VING, SUCKA!! I am so digging the new KOJAK. I think its a great show to chill with while USA works on new episodes of MONK. When the Michael Anthony Hall Show debuted on USA, (funny, I can't think of the name of it now) I was so digging that show and after the first season,....it got sucky.
*****what WAS the name of that show? (it's bothering me now)******


so, Sundays nights are great TV nights for me. I watched the Surreal Life 4 where they aired the Dirty Laudry and the funny thing to me is that DA BRAT doesn't know that she's APPARENTLY a HAS BEEN, TOO. Actually, I don't think of any of the stars on that show, (at least show 4) as "has beens." I think they are on the brink of another HIT in their career or they are gonna MISS it and fall. I really felt that BRAT was RUDE and UNnecessarly MEAN! Speaking of SURREAL......DID U HEAR?!!!!!


OMAROSA, JANIS DIKINSON & PEPA (salt n pepa) will move in the SURREAL house for the SURREAL LIFE 5!! THAT IS GONNA BE SO EXPLOSIVE!! I am so excited. 2 divas and you know PEPA ain't gonna take their ish. Guess who esle is in the house? Jose Canseco (the dude that pissed off everyone in baseball by writing a 'tell all' book), Balcky from Perfect Strangers (Bronson Pinchot), some pro dirt bike dude and some british model. CRAZY!!! You know what? It would be funny as hell if they threw like, Suge Knight, RU PAUL and Grace Jones in that house......just a thought.


and Sundays just keep getting better because the WB has been teasing the return of COLE on CHARMED!! This is so cool. This is my Sunday addiction. speaking of addiction......


OMG!!! Did you see this show tonight? I so love this show. Okay,...first off......
Bre should kick her sons ass and then let his dad at him. Oh yeah and dad so wouldn't be living with me after the cheating and all.
Susan, I know everyone loves her but she is sort of a ding bat. I begin to like Edie more and more with every episode. Why didn't she just read the freaking letter?
Lynette should have told the deaf lady what her husband said about her so she wouldn't have gotten cursed out via sign language, interpreted by a little girl. They know they need some Black folks on that street.
Gabrielle, my favorite housewife.....she doesn't deny herself anything. This is why I love her character so. So, why did I wanna give her some dap for serving her husband up to go to jail?
The writers for this show are AMAZING.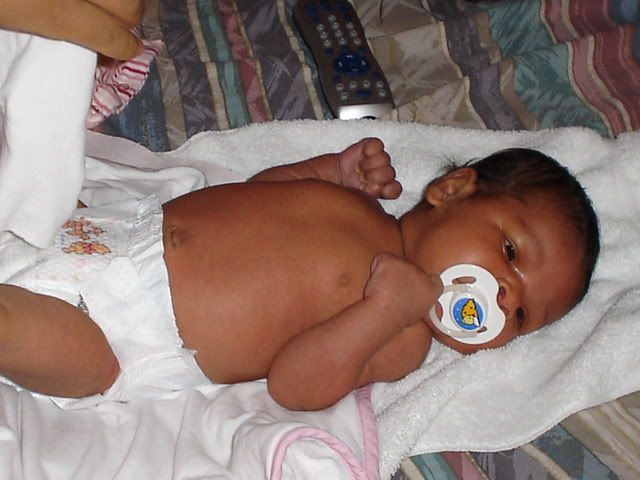 went to the ATL for the night so YOLIE, don't get mad. I just had to see the little one. My sister kept teasing me telling me how different she looks, how much she's changed and how she's growing. It totally worked because I hit the road. Even with those high ass gas prices.....thanks BUSH, you MF and all your DUMB ass supporters. I swear, everytime I see a dam W on a car, I wanna ram their asses from behind because that's exactly what this government is doing to the AMERICAN PUBLIC. I'm about to hit the sheets but I really enjoyed chillin' tonight, bloggin and listening to DWELE coutesy of HONEYSOUL.**how does she do it?**
oh yeah, gotta say this......
I got really caught up in the Terri S. case(k-star, you were on point). I hurt for her. People say they believe in GOD and they say they wouldn't want to suffer. It's not for US to decide. We are GOD's kids, his creations. GOD DECIDES! Who knows what kind of advancements scientists could come up with in the next couple of years. For all we know, Terri didn't even know she was a vegetable. She could have been living out a fabulous life in another parallel universe. WHO KNOWS? People said that she died 15yrs ago....BULLSHIT! She died and was revived. I know, I know, there are people that say that if you believe in the Bible....we should honor what her husband wanted (and what HE claimed she wanted). If you throw the Bible up to defend Mike S. then you must consider that HE had to be an HONORABLE man.....WHICH HE ISN'T!!! Just ask the girlfriend/baby mama. Why does this bother me so? WELL, DUH.....STARVING SOMEONE TO DEATH!!! Certainly not like unplugging life-support. Her brain worked well enough to tell her to breath. I guess I'm upset because this can happen to anyone. I thought about her laying in a bed and HIM starting over, collecting money from the malpractice and now from the life insurance policy. Movies come to mind......"A thin Line between love and hate" and "the divine secrets of the YAYA Sisterhood." In YAYA Sisterhood......all I thought about was the quote and motto for relationships...."LET NO MAN PUT US UNDER!" (in reference to guys and girls). In a thin line......a woman was lied to, hurt and betrayed, this set off a chain of events that led people to believe that she, 'brandi' (lynn whitfield) was the bad guy. i saw her as fed up. ****in my defense, i WAS engaged to the anti-christ**** anyway, that movie left me thinking.....HELL HATH NO FURY LIKE A WOMAN SCORNED!
Mike S. I hope she haunts your triflin' ass FOREVER! ......YA-YA!
*this is why I am NOT married (and don't wanna be).....serious TRUST and BETRAYAL issues*


and WHOA!!!! .....isn't it funny (not haha, but weird) how death comes in 3's?
TERRY SCHIAVO, JONNIE COCHRAN & THE POPE........DEEP! (just a thought)

Dam, It's 3am. Should I call in sick?
......MAKE THAT 5AM.