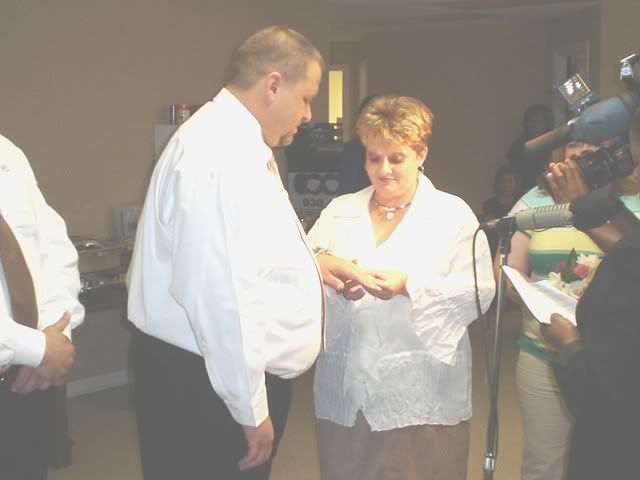 SO, MY COWORKER FROM THE COUNTRY STATION GOT MARRIED TODAY. LIVE, ON THE AIR,....DURING HIS AIR SHIFT! CRAZY, RIGHT? THE LOCAL NEWS CREWS GOT IN ON IT, TOO. CATERING PLACES VOLUNTEERED TO MAKE THE FOOD FOR PLUGS.....THE WHOLE 9. SO BASICALLY, THEY PULLED A STAR JONES AND GOT LOADS OF STUFF FREE. WEIRD STUFF KEPT POPPING IN MY HEAD DURING THE CEREMONY. LIKE THE PART WHEN THE MINISTER ASKS ABOUT THE TOKEN OF LOVE TO BE OFFERED. WOULDN'T IT BE COOL IF SOMEONE SAID, INSTEAD OF A RING...."I OFFER YOU MY VIRGINITY! OR I GIVE TO YOU MY WORD THAT I WON'T CHEAT OR SYPHILLIS (SP?) OR .........
OKAY SERIOUSLY, I NEED TO GET CHECKED FOR A.D.D.
I HAVE MIXED FEELINGS ABOUT THIS WEDDING. JUST LIKE T.V., RADIO HAS A "SWEEPS WEEK" EXCEPT INSTEAD OF A WEEK, IT'S LIKE A PERIOD OF 3MTHS. ANYWAY, I THINK THIS WAS A HUGE THING FOR THE STATION CONSIDERING RATINGS BOOSTS AND ALL BUT,.....
PERSONALLY, I WISH SOME MO FO WOULD COME AND ASK ME TO MARRY HIM WITH THIS LO-BUDGET WEDDING. MY MAMA ALWAYS SAID, "DON'T DO NUTHIN' HALF ASSED!" SO, EITHER I WOULD GO ALL OUT WITH A PLUSH POSH FU-FU WEDDING OR WE'D HI-TAIL IT TO VEGAS BABY! DO YOU THINK THIS WAS CHEEZY SCHMEEZY? OR GENIUS!! (with a J) teehee (U'M JUS SAYIN' DOUGH)