I WASN'T GONNA DO THIS BUT......IT WAS REQUESTED.

FIRST OFF.....I HAVE NO CHILDREN, NOR DO I WANT ANY. PEOPLE LIKE ME NORMALLY DON'T REALLY CARE ABOUT HEARING ABOUT OTHER FOLKS KIDS EITHER. PARENTS ARE SO UNDERSTANDABLY PROUD OF THEIR KIDS AND THAT'S AWESOME! USUALLY, WHEN SOMEONE ASKS ME TO LOOK AT BABY PIC OR COME TO A BABY'S BDAY PARTY, I'M THE ONE THAT WILL SAY,...."OH, I'LL LOOK AT THE PHOTOS LATER" OR "CAN I JUST SEND A GIFT?" I MEAN, I AM A SINGLETON, THAT'S NOT MY THING. I NEVER BABY-SAT. JUST WASN'T INTO IT. SO, WHEN I SAY THESE THINGS TO SOME OF MY FRIENDS, THEY GET THE IDEA THAT I HATE KIDS. THIS IS RETARDED. I JUST WASN'T INTERESTED IN THEIR KIDS, I WISHED THE BEST FOR THEM, JUST WASN'T PERSONALLY INTERESTED.
WELL NOW, HERE COMES "THE NEICE." I LOVE HER TO PIECES. NOTHING HAS CHANGED, I'M STILL NOT ALL THAT INTERESTED IN OTHER FOLKS KIDS BUT AT LEAST NOW, I WILL LOOK AT PHOTOS........ONLY SO I CAN PULL OUT MINE OF THE NEICE.
I DON'T WANT TO BE ONE OF THOSE PEOPLE THAT ANNOYED ME, ALWAYS BRAGGING ABOUT THE KIDS. BUT THEN, COOL ASS LUKE HAD TO ASK ABOUT "THE NEICE" AND.......

BAM!!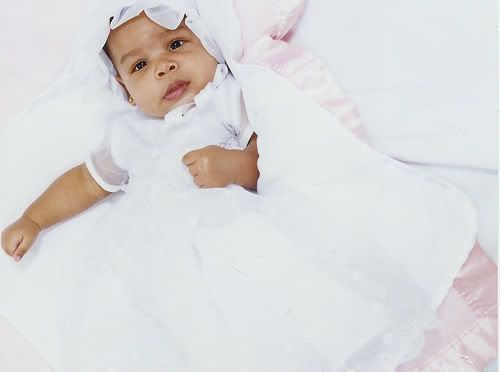 SHE'S A HEARTBREAKER ALREADY. THEY GROW UP SO FAST. THROUGH HER, I GET THE BEST OF BOTH WORLDS. I LOVE ON HER THEN I GIVE HER BACK. I MAKE HER LAUGH, WE PLAY AND I SHOP,....THEN I GIVE HER BACK. SHE CRAPS, SLOBBERS, HAS THE RUNNY NOSE, OR CRIES....I GIVE HER BACK. BEING AN AUNT IS THE BEST!!!


I WENT HOME TO THE ATL THIS WEEKEND TO SEE LIL SIS, THE NEICE AND BRO LAW AND THE NEICE HAS HER FIRST COLD. I SHOWERED HER WITH BABY DIVA GIFTS AND PLAYED WITH HER FOR A WHILE THEN SHE GOT A LITTLE CRANKY. THE MEDICINE DIDN'T HELP HER SLEEP. SHE KEPT HER MOM AND DAD UP TIL 5AM,....IT'S SAD TO SAY....AUNTIE, SLEPT HARD! NEVER HEARD A THING. I WAS AWAKE, ALERT AND PERKY THE NEXT MORNING.....JUST IN TIME TO PLAY WITH A HAPPY BABY THAT FINALLY GOT A NIGHTS REST...UNLIKE HER PARENTS. HEY, THAT'S WHAT PARENTS ARE FOR, TEEHEE.
SHE'S 6MTHS OLD ALREADY AND LOOKS LIKE SHES A YEAR. WE CALL HER BAM-BAM BECAUSE SHE'S BIG, HEALTHY AND STRONG AS ALL GET OUT.
THANKS FOR ASKING ABOUT HER LUKE. SORRY I HAD TO GO ALL PROUD AUNT ON YA.